Enhance Your Home with a Customized Theater Room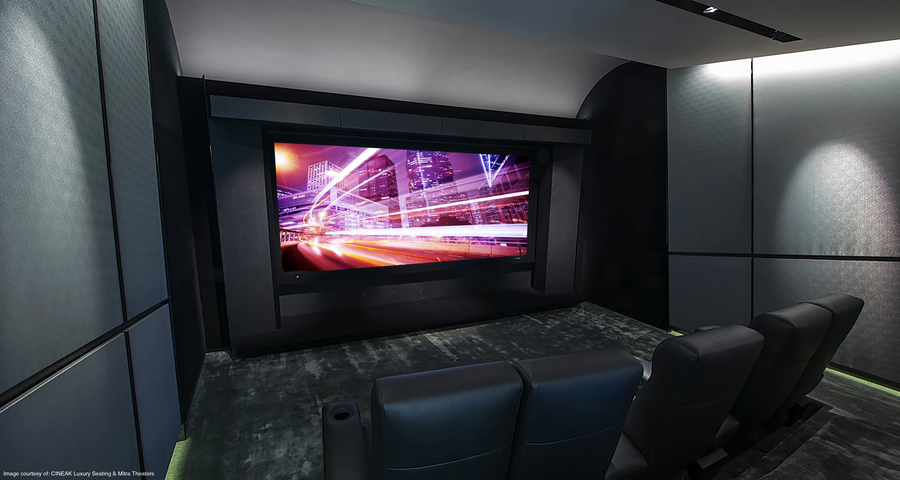 Our AV Professionals Can Help You Take Home Entertainment to New Heights
Popular streaming services like Netflix and Amazon Video have put quality content at our fingertips. From the comfort of your home, you can enjoy blockbuster films, award-winning original shows, documentaries, and so much more—many in 4K resolution!
When you pair your favorite content with an impressive home movie theater, you'll never have to travel to your local cinema again. Our team at PAVS has years of experience building custom home theaters for homeowners in Steamboat Springs and the surrounding Colorado area. Discover how we can help you create your dream theater room for elevated entertainment right at home.
SEE ALSO: Why Your Project Needs A Smart Home Control Expert
Enjoy Cinema-Grade Picture and Sound
The most inviting features of a home movie theater are the cinema-grade picture and sound. We partner with world-leading AV brands like Samsung and Sonos to craft a home theater system that caters to your unique needs and delivers wow-factor audiovisuals that last for years.
Get closer to every dazzling detail of your favorite movies and shows with 4K picture and signature surround sound that places you right in the middle of the action. Vivid color and contrast create breathtaking picture while rich audio fills the room at any volume, no matter the size of your space.
A Cohesive Design Unique to You
We've all seen it: the DIY home theater room that missed the mark because of poor speaker placement, distracting ambient lighting, or the wrong display size. Whether retrofit or new construction, we'll create a theater room that complements your home décor while meeting the necessary requirements for an optimal entertainment experience.
Designing a home movie theater is much more than throwing a TV and speakers into a room. You must consider key factors that make or break a worthwhile movie-viewing environment. Our team has the experience and technical skill to create a theater room that checks all the boxes, from speaker calibration to seating placement and more.
Effortless One-Tap Control
Imagine this: Your family is about to gather in the theater room to enjoy a movie together. Everyone piles in as you fiddle with a bunch of remotes to turn on the projector, speakers, receiver, and more to start the film. All that work still doesn't involve adjusting lights, shades, or the thermostat to make sure the room is movie-viewing ready.
We partner with Savant to integrate all your AV and room technology into one easy-to-use platform, which gives you the ability to command all those devices in one place and in one fell swoop. From an intuitive app, you can power on your home theater system, adjust the lights, close the shades, and lower the thermostat in a single tap!
Ready to start planning your home movie theater project? Contact PAVS for a free consultation! Give us a call at 970-879-2217 or contact us through our online form. We look forward to working with you.
Enhance Your Home with a Customized Theater Room